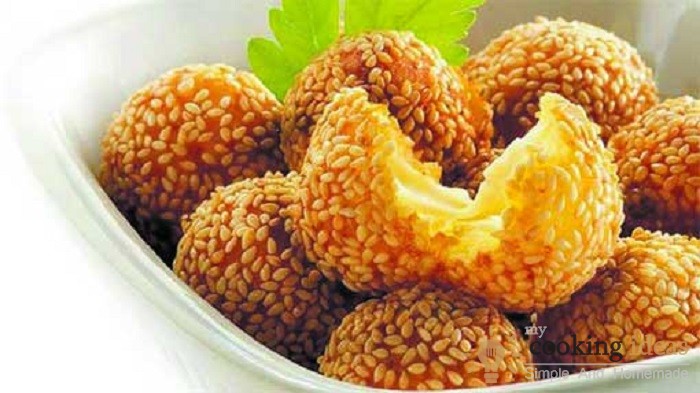 Тhe Most Delicious Croquettes! All You Need Is Sesame, Potatoes And Vegetable Cheese
Delicious lean croquettes with potato, vegetable cheese and sesame.
Ingredients
500g Potato
200g Flour
40g Margarine
50ml Water
Seasoning and salt - to taste
150g Vegetable cheese
200g Sesame
Instructions
Cut the peeled potatoes into cubes and boil them in salted water for 30 minutes or until potatoes are tender. Once cooked, drain it and make puree.
While the potatoes are still hot, add the seasoning and margarine. When the mixture is almost cool stir the flour in the water in which the potatoes were boiled add it to the puree and make dough.
On a board sprinkled with flour divide and knead the dough in small peaces. On each piece put a cube of cheese and make ball shapes making sure the dough completely is covering the cheese.
Coat the croquettes in sesame seeds and fry them in a deep bowl with oil. After fried put them in a dish covered with with kitchen paper which will absorb the Fried croquettes take them on kitchen paper to absorb the extra grease. Serve.
loading...
About Chef
Related Recipes