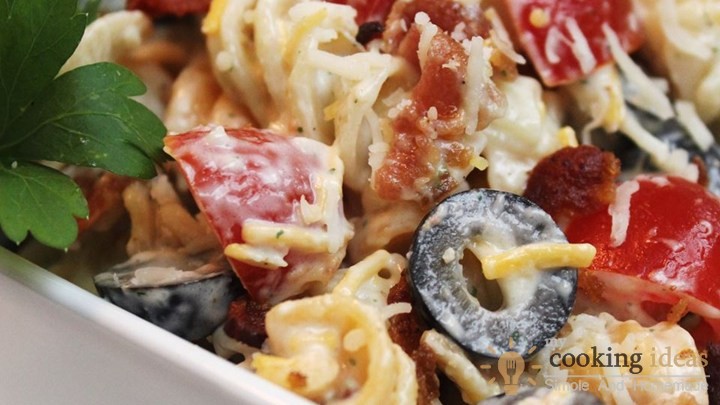 Bacon Ranch Pasta Salad
Ingredients
350g uncooked rotini pasta
10 slices bacon
1 cup mayonnaise
3 tablespoons dry ranch salad dressing mix
1/4 teaspoon garlic powder
1/2 teaspoon garlic pepper
1/2 cup milk, or as needed
1 large chopped tomato
120g liced black olives
1 cup shredded sharp Cheddar cheese
Instructions
Boil a large pot of a lightly salted water, then cook the rotini until tender yet firm to bite for about 8 minutes and drain them.
Fry the beacon on medium heat until evenly brown and chop it.
In a large bowl, mix mayonnaise, ranch dressing mix, garlic powder, and garlic pepper. Stir in milk until smooth.
Place rotini, bacon, tomato, black olives and cheese in bowl and toss to coat with dressing.
Cover and chill at least 1 hour in the refrigerator. Toss with additional milk if the salad seems a little dry.
Ready in :

85 Minutes

Recipe Type : Salad
loading...
About Chef
Related Recipes