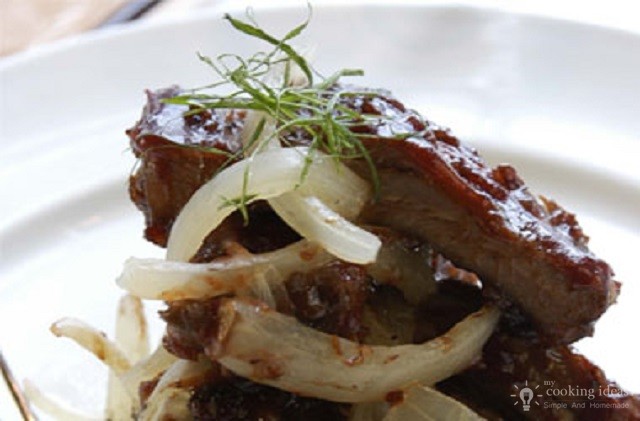 Pork Ribs With Home Made Sauce
Ingredients
1kg pork ribs
3-4 onions
3 laurel leaves
2 tablespoons spice
1 teaspoon black pepper
1 tablespoon red chilli papper
For the sauce :
2 tablespoons flour
1 cup (180ml sour cream)
1 tablespoon spice
1 tablespoon rosemary
200ml water
Instructions
The meat is cut into pieces and placed in a hot pan to fry. Pour a little oil and water (150ml) and fry the meat in the uncovered pan .
Time to time stir until the ribs get red from all sides . Ribs have a fatty parts and if you are frying lean meat put a pieces of raw bacon.
After the meat is fried sprinkle it with salt and black pepper and finally add the red chili pepper.
Remove the meat form the pan and in the same oil fry the thin sliced onions wheels (which should be about 5 mm thick). Fry until the onions soften and serve them with the meat.
In the remaining oil add 2 tablespoons flour and fry it for a 30 to 60 sec. Pour the cream and 200 ml water. Let the sauce boil about 5 minutes, put the spices and then serve it with the ribs.
loading...
About Chef
Related Recipes